Hot Alarm Clock has an advanced system for keeping contacts and birthdays. It can remind you about forthcoming events. If you use its birthday list, you will never miss a birthday.
You can also use that list for other important events, such as weddings, graduations, etc.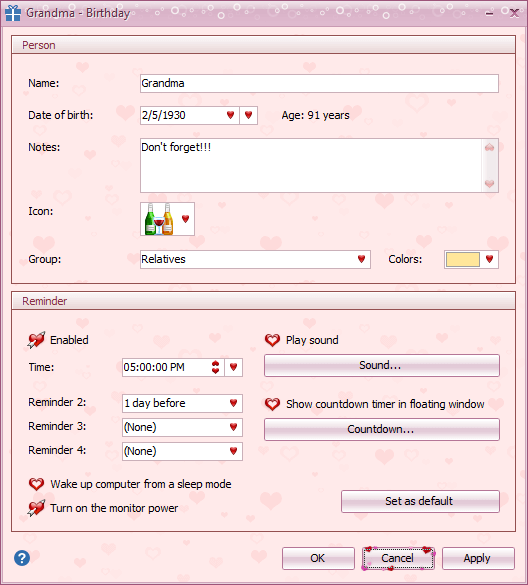 Name

Person's name or event description.

Born

Birthday or event date.

Notes

Additional information.

Icon

You can find the event in the list more quickly by using an icon.

Group

A group the event belongs to. You can select an existing group or enter a new group name. This field is handy for grouping events in the grid.

Color

You can choose a color to be used for highlighting a row in the grid.

Reminder

A message will be displayed, and the selected music will be played. For each reminder, you can define its time and three preliminary reminders to be triggered at the specified times: Remind two weeks before, Remind a week before, or Remind one day before.

Enabled

You can permanently enable or disable a reminder.

Set as default

If you click this button, the parameters specified in the Reminder group will be used each time you add a new birthday.
For the event, you can choose Sound and a Floating window to display the time remaining until the event.