Hot Alarm Clock supports importing data from other applications. To import data, click the File tab in the top left corner of main window, and then click the Import Data item.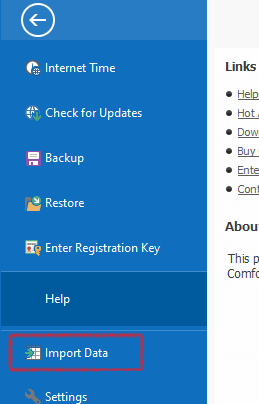 Data importing is done as follows:
In the Kind drop-down list, select the data source, which can be an application or other source.
If you are importing data from a backup of the selected application or other file, the File name field will be displayed to let you specify the path to the file.
Click the Load button.
If Hot Alarm Clock has successfully read the data, an import list will appear in the grid. At this step, the data have not been stored in Hot Alarm Clock's database yet.
If you prefer not to import some lines, use the Delete button to remove them.
Finally, click the Import button.